I get so excited when people send me stuff like this. I work very hard to make my material the most detailed, groundbreaking stuff out there, so it is very rewarding to hear that people are making good money from my strategies.
These are examples of the sort of income people have been making with my google plus local strategies.
==============
This kind of income could be yours, just check out my course: http://easylocalcash.com/letter.php

==============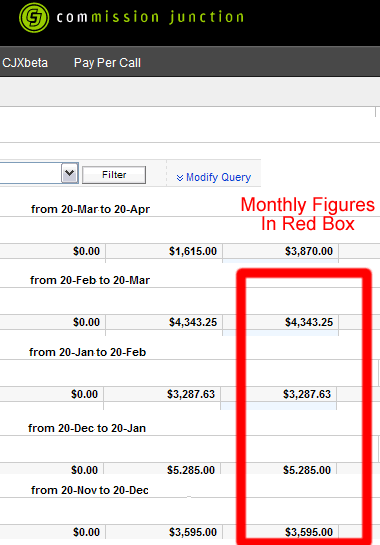 ==============
This kind of income could be yours, just check out my course: http://easylocalcash.com/letter.php

==============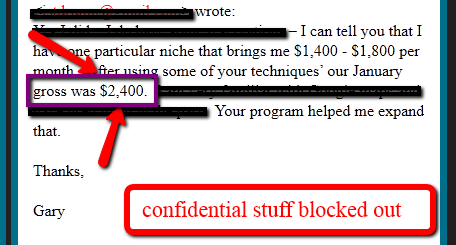 ==============
This kind of income could be yours, just check out my course: http://easylocalcash.com/letter.php

==============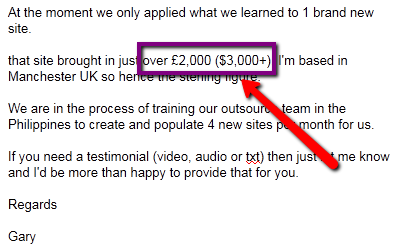 (not the same garry)
And here are some testimonials that I copied and pasted from imreportcard, a third party site that I have no control over that rates Internet marketing products:
Spent a Week Putting
Course Into Practice,
Now Making
$1,000 a
month off one little site
You shouldn't buy this unless you are ready
for a stampede of traffic. I know that sounds like
a come-on but I am just giving you fair warning from my experience.
I have bought several products on traffic generation but
they took a lot of work and brought little results.
I had a product that was making me a little money off of
what little traffic I could get since it was a competitive
product. (I'm talking around $75 a month)
Although I haven't had much success with internet marketing
before, I purchased the course and followed the instructions.
It is not a magic wand to success, there is some work involved
but this is the closest thing to winning the lottery that
I have ever experienced.
I used the product I had experience with and spent a week
putting the course into practice and waited. After a month
or so I was surprised to find out I was making around $1,000
a month off that one little site.
You can get to the top of page 1 in Google for a lot of keywords
(but not all) with this product in a short amount of time.
But you do have to put in some work. If you are looking for
a magic wand, this is not for you.
I am working on expanding this to many more sites and I am
forever grateful to Chad Kimball for creating this course.
T. Lorenzo
Was
Able To Generate
Several Thousand Dollars

I've had a pretty good response from Google
Maps Cash. It took a little time for me to get it running
(I'm not very good with technology) but it got me on Page
1 of Google for several accounts. The best one was for a
local retailer who had three stores in my home town. The
owner was quite happy with what he said was a threefold
influx of traffic in his stores and credited many sales
to the incremental traffic. The account is an affiliate
of mine that has 200 stores and an online store.
I've also tried it for another affiliate and was able to generate several thousand dollars so far in a grey hat situation.
Bottom line–it's working for me and I've made money on it and will continue to work it
-Toboyle9
==============
This kind of income could be yours, just check out my course: http://easylocalcash.com/letter.php

==============
Over
$2,400!
I will be honest to tell you that my expectations before
getting Google Maps Cash is that it would enhance my existing
efforts, and it absolutely did. The program did improve
my sales numbers and exposure.
I have a ton of previous experience and the techniques
that Chad gives can and do work. It is a bit overwhelming
in that there is a lot of information and you could get
a bit confused about where to start. My suggestion is give
it time. (implement one technique a month until you master
it) I think Google Maps Cash does deliver on it's promises
and if it is used regularly can 100% improve your business.

Just one affiliate site I own went from an average of
$1,200 per month to over $2,400. The key here is product.
So don't judge on $, judge on traffic. You must implement
the entire program and that can be exhausting if you are
not up to it. But being someone who is highly involved in
internet marketing and approaches it as a business (not
a pastime or hobby) You get out of it what you put in and
I would bet most people are passive and want instant results.
Some results are quick and some you have to work on depending
on your niche.
I highly recommend Google Maps Cash to people who are willing
to work it. It works!
-Jstdrumn
===========
and this is one of my favorites, copied from my blog. Read it and you'll see why:
===========
Now
doing Google maps
business listing for just shy of
500 different franchise owners
all over the United States.
You Have Literally Changed My Life
With This Program!
I've been using your system now for a couple of months.
Your Google maps information is not only very informative
but also dead on!
I started by watching the entire series completely through
once first to get a better understanding, I then went back
through the video lessons one at a time, only this time
applying each technique as I went.
My first Local business is owned by a friend of mine who
owns a franchise in a major corporate national chain who
agreed to let me use his business as my test pilot.
With-in a few days of me creating his "new" business
listing, Google merged the two ( as you predicted might
happen) with the local business listing that had previously
been in existence set up by the corp. home office or Google,not
sure which.
Wow did I about have a cow right then and there. Fortunately
Google rewarded me the new listing, I'm guessing because
I had totally fleshed it out as per your instructions and
it appeared to be the most relevant of the two.
Since then, approximately two months later, not only did
the new Maps listing become prominent , but we have managed
to take over- "Dominate" the first two pages of
the natural search results for 7 different keyword phrases
locally in his city. Imagine not having a competing company
show up for two pages.
Just for those of you who might still be skeptical as to
whether or not you can earn money providing this as a "paid
for" service to local business owners, I finish with
telling you about how it has gone from a test pilot with
one store to now doing Google maps local business listing
for just shy of 500 different franchise owners of this company
all over the United States.
Chad,
You and your brother have literally changed my life with
this program. I am now a stay at home father of two teenage
boys and have left the company I have worked for the last
15 years to pursue my new found love and career helping
local business owners build there businesses.
One of the best parts is the feeling of appreciation from
the owners who I am servicing, they real love it!
I can't find the words to express my gratitude enough to
you both, Thank You!
To Your Success!
Brad Bellamy
==============
This kind of income could be yours, just check out my course: http://easylocalcash.com/letter.php

==============