George is the owner of Allsearch52.com, an Enterprise level SEO agency in Australia.
In my opinion, he shared WAY too many of his trade secrets for getting clients in this interview, but he was willing to share them with you:
Simple, 2 step process that George uses to get Enterprise level clients, entry level fees $10,000/month.
How to appear larger than life in a sales meeting with a large corporate prospect to get you the sale, even if you are a one person shop.
Unique way to use your workspace to reach 200-300 new prospects.
Step by step of the tools he uses to outsource a large percentage of his work.
IMPORTANT: This 27+ minute interview is less than HALF of the full interview that you will gain access to in my MultiLocation SEO Cash course, coming out on October 1, Thursday. In the FULL interview inside my course you'll also learn the following:
Little known arrangement you can make with human resources departments to decrease your  workload and charge them more. (Interview Minute 3)
And much, much more (total interview is over 1 hour 22 minutes!)
A new type of SEO work that corporations are now looking to pay for, few people know about this and you can profit quickly from it! (George Phillip Interview Minute 8)
A sales meeting trick that makes your agency appear large and trustworthy even if you are a single independent consultant.
Unusual way to get clients by meeting with your accountant (George Phillip Interview Minute 34)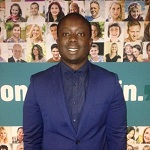 How to use facebook ads to get enterprise level clients, and it does not cost very much either. (George Phillip Interview Minute 20)
How to make sure YOU are a line item in a large corporation's budget (and a big line item, too!). (George Phillip Interview Minute 14)
How to use snail mail to get through gatekeepers, direct to executives that have the power to approve high level fees. (George Phillip Interview Minute 18)
Secret area of a corporate website that will help you close the deal and get that company as a client (George Phillip Interview Minute 35)