Who is Sarah Chrisp (Wholesale Ted)?
Sarah Crisp has a website and Youtube channel called Wholesale Ted that produces educational videos related to Dropshipping and eCommerce tips and advice to help online store owners or people who are interested to make money online achieve their dream and make an income with an online business.
But before you read anything else about wholesale ted, find out why I don't recommend dropshipping at all. I have a free video showing a much better business model here.
Here's a video of my daughter's business using this :
Click Here to Get The Course My Daughter Used.
The course my daughter used above is much better than Wholesale Ted. But since you are here to learn about Wholesale Ted, lets get back to our review of that:
If you ever search about making money online through Dropshipping,eCommerce, or Print-On- Demand then you would probably come across one of Sarah's videos on related subjects because she owns one of the biggest Youtube channels in the Dropshipping and eCommerce niche.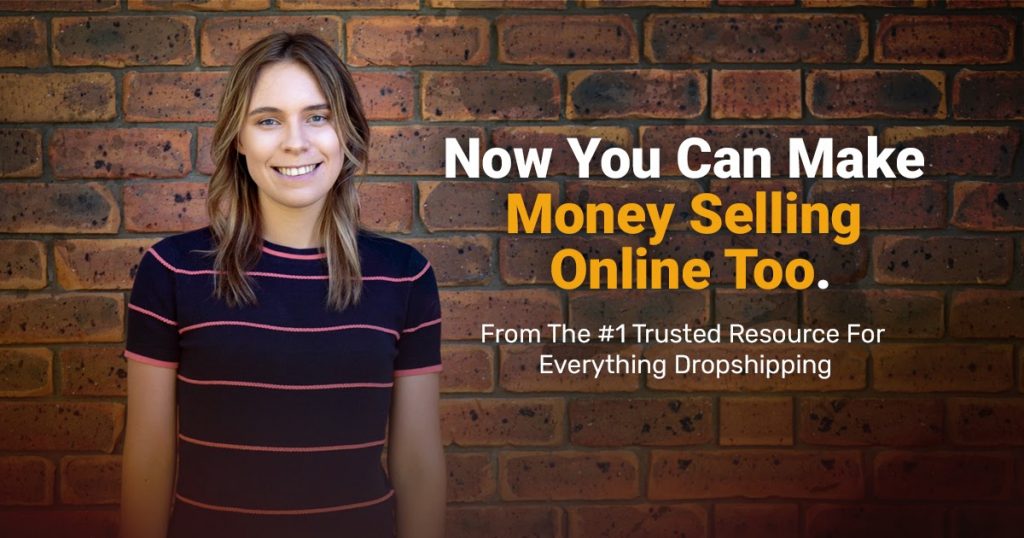 As you can see from the picture above, her Youtube channel is currently at 770k Subs with over 29 million video views!
For someone that started her Youtube channel in 2014, she is doing very well with her reach, and with over 160 youtube videos now on money making topics focusing mainly on eCommerce and Dropshipping, she is playing a big role as one of the popular figures on Youtube as an eCommerce expert.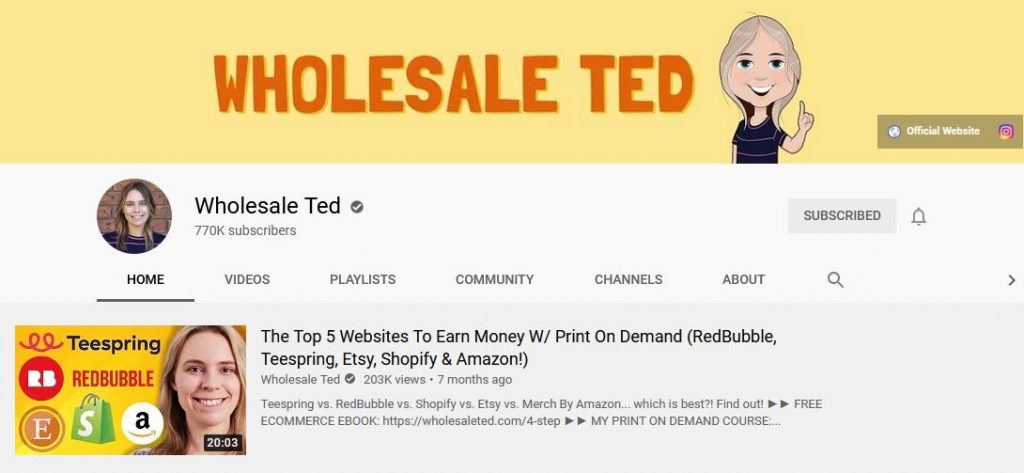 You might be wondering why she uses Wholesale Ted as her website and Youtube channel name instead of Sarah Chrisp?
Sarah herself told a story about this on her Youtube channel where she explained that Ted is the name of her mentor, she started her Youtube channel together with him. They work as a team as Sarah's job is to focus on creating the videos while her mentor, Ted focuses on copywriting side to the channel and the newsletter for their website.
How did Sarah Chrisp Get started?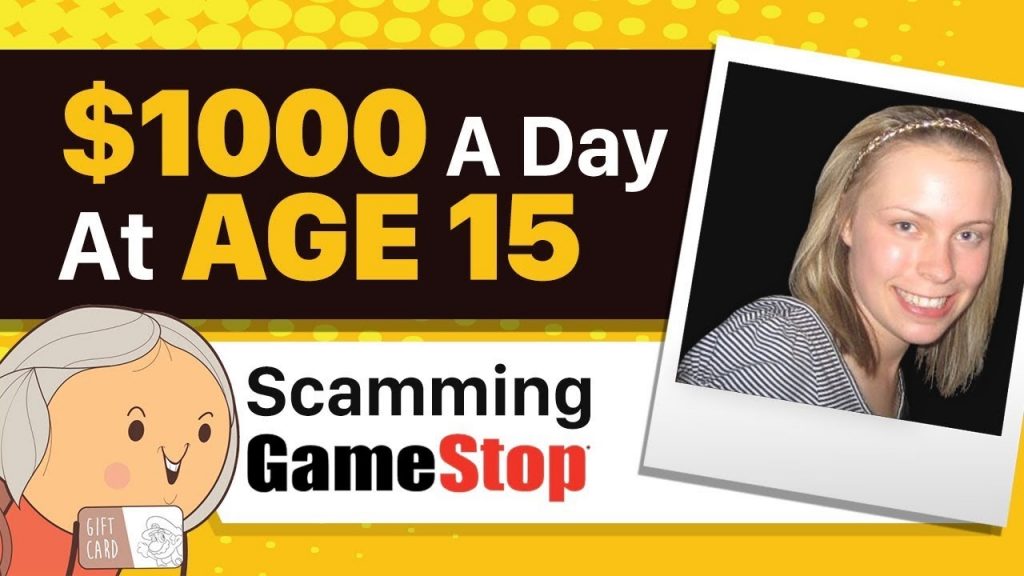 It all started when Sarah was 15 years old when she had no money to spend on her favorite video games, and her parents were not giving her any allowance for her video games.
So she decided to get a job to make money to purchase her precious video game. Her first job was as a checkout operator in a supermarket in New Zealand which is called CountDown.
After a long week of working, she received her weekly payslip of about $35 for a week worth of work, which is quite low for a week worth of work. Well, you can expect what was running through her head with $35, she was frustrated and extremely disappointed so she had to figure some way out of her situation.
That is when she started her first business with her favorite stuff which is video games! It all happened when she sold her Nintendo Ds game for $40 on an online market in New Zealand that is called Trademe. She realised that the game that she sold is a bit more expensive than what the normal price is but people still buy them.
Then, she discovered a loophole in which the game shops in New Zealand do not offer many old Nintendo Ds games and they are low in stock in New Zealand but the games are abundant in America.
Thus, she buys a lot of cheap old Nintendo Ds games on eBay in America and sells them for a high price in New Zealand. Her business was doing very well as she can make $1000 every single day just by reselling video games.
Is Sarah Chrisp Legit or Fake Artist?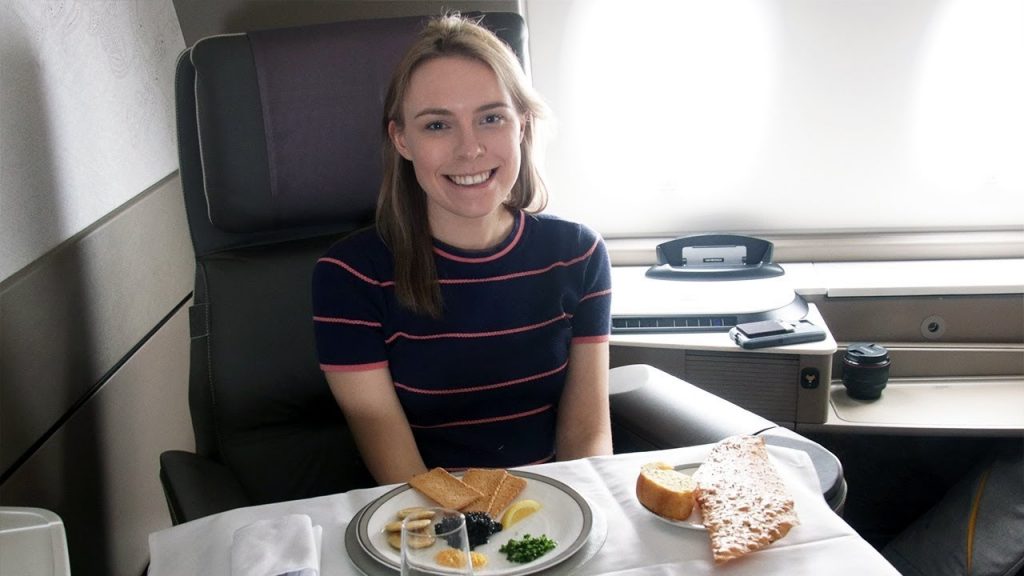 At first glance, would you think Sarah Chrisp is a scam artist? Of course not right? And the reality is I do not think that she is a scam. I think she is very legit in what she says and does.
She has been featured in Forbes, Entrepreneur Magazines, Business Insider and Shopify as one of the top eCommerce and dropshipping experts out there. Not only that she is also a successful YouTuber and affiliate marketer!
Logically speaking, would Shopify certify her course, Ecomm Clubhouse which we will talk about in just a moment, as a Shopify Education Partner Approved course without investigating if it is true that she is a 7 figures entrepreneur? Shopify probably already worked with Sarah for a long time back when she started her Youtube channel in 2014.
One more thing to consider is that, with the luxury lifestyle, she cannot afford all of that with only Youtube ad revenue money, as explained by Sarah, one of her first-class flight with Singapore Airline that cost $30,000, she got it for free by utilizing credit card points from her ads spend on her eCommerce stores.
Another thing that convinced me that she is not a scam is that she provided her income proof from her On-Demand store, Dropshipping store, and more on her Youtube videos. People on the internet are freaking out because she does not share her online stores' information.
It is a very smart decision of her to not reveal her stores, just imagine, all of your followers figured out your stores and what you are selling as well as everything that you do with the stores, of course, they will copy everything that she does as she is making a lot of money with eCommerce.
I have been following her on Youtube for a few years now and personally, I think she is one of the legit Gurus out there because of the quality content that she provided for free on the platform.
What Courses Does Wholesale Ted Offer?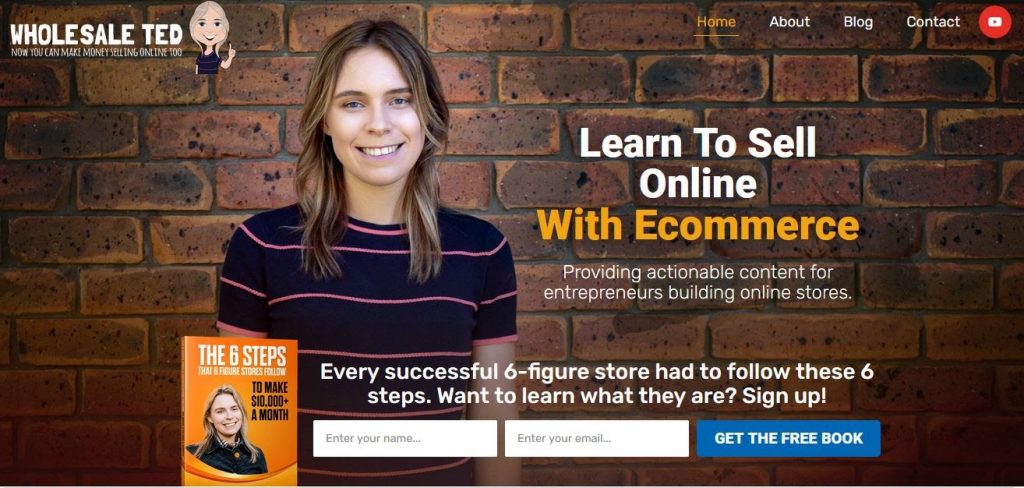 As from my research, the only course that she is offering now is her free ebook which is the 6 Steps That 6 Figures Stores Follow To Make $10,000+ a Month. The title of the ebook is already very appealing plus the fact that they are free, then it's time to sign up to her mailing list!
Another course that she is currently offering now is The Ecomm Clubhouse, this is a monthly membership-based program where it is designed to help beginners to launch their first online store with tutorials from the Wholesale Ted website.
Ecomm Clubhouse Review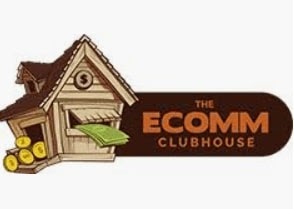 The Ecomm Clubhouse is a course that teaches you how to make money with Dropshipping and eCommerce stores. This training is regarded as premium by Sarah and her team because on the website, they have everything that you need to launch, build and make your online store profitable.
One amazing thing to note about this course is that it got certified by Shopify as being one of their Education Partner's courses out of 14 that has been certified by Shopify.
You might be thinking that this course might be expensive. The answer is the cost is average, not too cheap, and too expensive. As it is a monthly subscription member platform with a tag price of $67 per month, it is affordable for someone who wants to build their online stores with proper guidance from a mentor that has already made 7 figures with eCommerce.
Plus if you want to take a peek at what it looks like inside and the video courses, you can take a $1 trial for 7 days of access to the membership platform and after that, if you do not cancel, you will be charged with $67 for a month, I mean, if you are a fast learner you can just pay $1 and learn everything in the platform in under 7 days!
Although you can't finish all of the content in 7 days, I think you got my point here.
So what are some of the things that you will learn in this course?
Over 10 hours of premium video training related to Dropshipping, Print on demand, and eCommerce stores.
Learn how to create your product with their on-demand video training.
Tutorials for eCommerce apps and online tools
Legal tips on setting your online business
Store cases studies and what makes them profitable
Initially, once you purchased the course, Sarah will outline 4 steps for you to completely build your online stores. I will break down the steps below.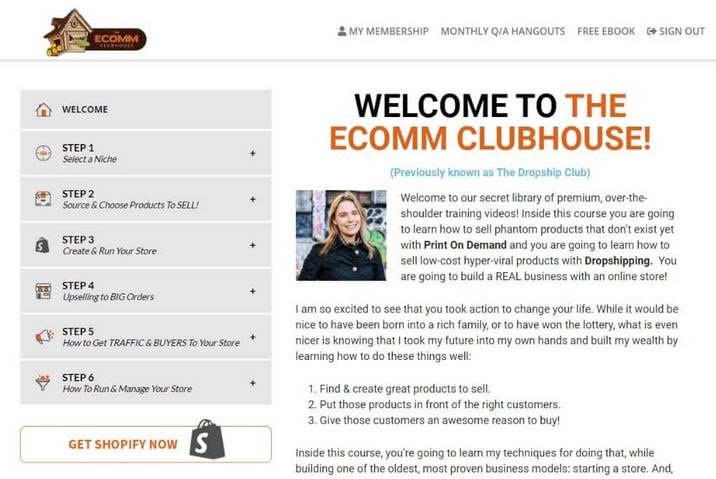 Step 1: Selecting A Niche
Deciding on a niche is one of the first steps in building your online store, with Sarah's training you can bunch out all of the niches that you would like to get into, list all of them, and slowly cross the niches that are likely not going to do very well and not going to be profitable in the long run.
Sarah suggests that you pick a niche that you can brand because once you build the brand of your store, it will keep building up as long as you keep selling high-quality stuff in your store.
Step 2: Source & Choose Products To Sell
Choosing the right product is important because you do not want to choose a product that does not attract the attention of future buyers especially when you are trying to promote the products on Facebook ads or any other social platforms out there.
In the Ecomm Clubhouse, you will learn how to choose the right supplier, how to spy on competitors' stores as well as outsourcing cheap designers from places like Fiverr and more.
The most popular place to get your product based on Sarah's recommendation is on Aliexpress, from there she will guide you on how to choose the right and high-quality product for your store.
Step 3: Create and Run Your Store
In this module, Sarah will teach you all of the things that you need to know about creating your store using Shopify. This includes basic Shopify setup and tutorials such as the design of your store, billing option, etc.
Later on, she will guide you on how to connect Oberlo with Shopify as this is a very important step because if you are planning to do dropshipping, you can outsource the products straight from Aliexpress to your store with Oberlo.
Step 4: Upselling to Big Orders
In this step, Sarah will show you how to maximize your profit with high ticket items, you will learn all the tactics and techniques to upsell people from your initial sale.
Another thing in this step is that Sarah will suggest to you some paid apps that you can use to increase your conversion and for the upselling process which are paid plugins within the Shopify platform.
Step 5: How To Get Traffic & Buyer To Your Store
The main traffic focus that Sarah teaches in this step is Facebook Ads, so you will be exposed to everything related to Facebook Ads.
From setting a Facebook ads campaign into installing facebook pixels in your Shopify store, she will guide you through all of them step by step.
Just when I thought that the only traffic that she teaches in the module is Facebook Ads, she revealed some bonus traffic lesson which is Search Engine Optimization.
She teaches some SEO tactics that can help your products get ranked fast on Google and potentially drive free organic traffic to your site or store.
Step 6: How To Run & Manage Your Store
The final step is about managing your store and how to run it, Sarah recommends to their students to use Oberlo and Printify app to fulfill customers' orders and teaches you how to outsource the work by hiring virtual assistants.
This is to make sure that you do not have to worry about fulfilling customers' orders and you can focus on more important things in your store such as optimizing them toward more conversion or getting more traffic.
Final Thought
In my honest opinion, I think Ecomm Clubhouse is a great course especially when you have zero ideas on how to create an online store and you want to get involved with eCommerce and Dropshipping.
But, like I said before in this article, I don't recommend dropshipping at all. There is a much better business model where you own all the products, keep all the profits yourself, and takes less time to setup. I have a free video showing this business model here.
For the price of $67 per month, I would say that it is quite okay because I have seen some other experts out there that charge $497 to $997 for this kind of information.
Despite that, I think that you are better off being their member for approximately 2 months, from that time, you would have already watched all of the training videos and what is left for you in the membership area is the community there where you can ask questions related to your online store.