The real estate industry is so broad that it never runs out of money-making avenues for the right person. Many people who consider making money from this industry start by acquainting themselves with popular strategies. If you are one of these people, I am sure you have heard about home flipping.
Well, there is a fairly new strategy that puts a twist on the popular flipping strategy. It's called astroflipping. This article will talk about what astroflipping means and try to answer some mind-boggling questions about it.
But before we go any further… imagine if you could invest in DIGITAL properties. I'm talking about investing in properties that exist ONLINE only (not in the physical world). You may not know this, but properties like this have no property taxes, no repair costs, no homeowners insurance, and the profits can be MUCH greater: Digital Real Estate Video Here.
Here's a video of my daughter's business using this :
Click Here to Get The Course My Daughter Used.
The course my daughter used above is much better than AstroFlipping. But since you are here to learn about AstroFlipping, lets get back to our review of that:
First of all, who are the brains behind AstroFlipping?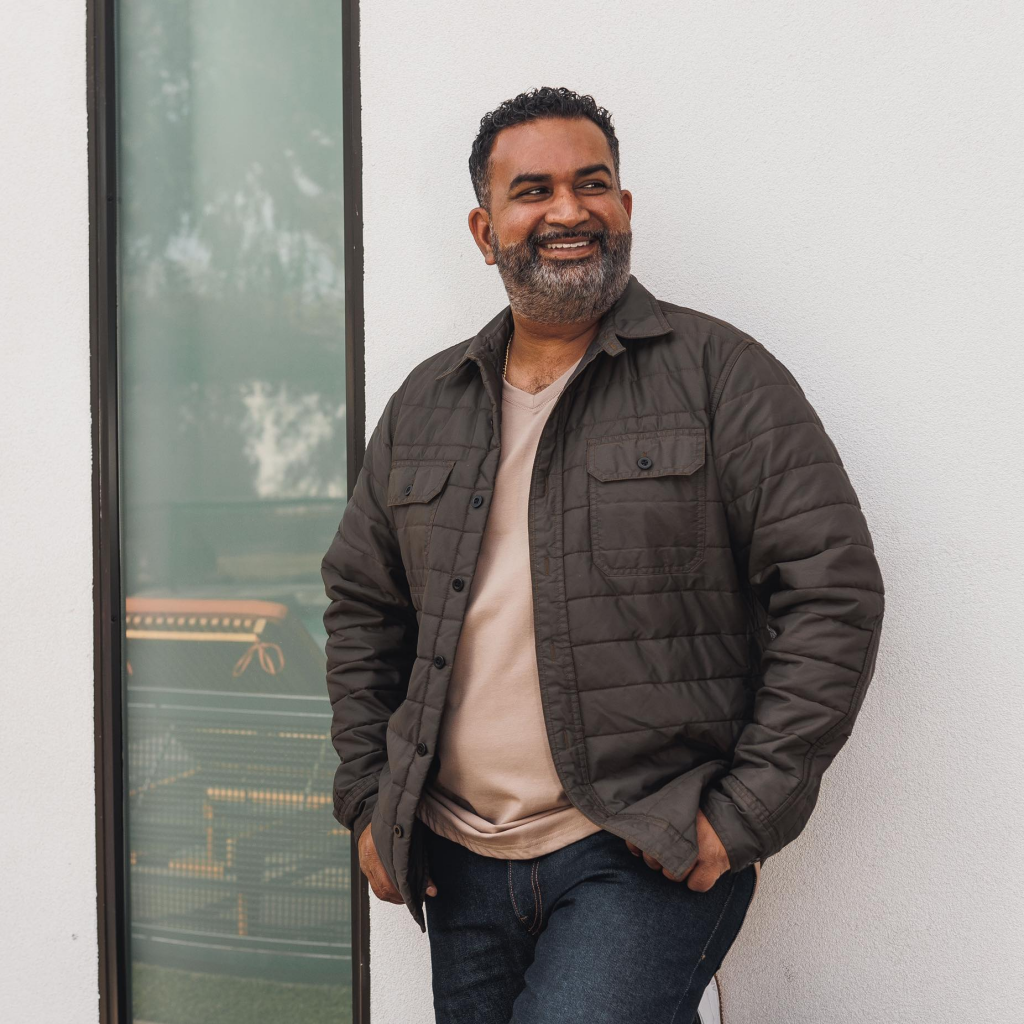 The creators of this program, Jamil Damji and Josiah Grimes, are two entrepreneurs who have over a decade of experience in home flipping and wholesaling. They are also the trainers of the course with Jamil being the main coach. You will not see much of Josiah since he works mainly on their YouTube channel. He offers free training on real estate strategies on their channel. 
Jamil stars in a real estate TV show called Triple Digit Flip and Josiah has been featured on Dave Ramsey's show and HGTV. Jamil also has other real estate programs such as Flip Me.
The pair along with two other people co-own a successful real estate investment company called Keyglee LLC based in Florida. Keyglee LLC is an internationally franchised real estate wholesaling business that operates in 118 markets.
What is Astroflipping?
It is a course designed for both beginner and seasoned real estate investors who want to upscale their professional wholesaling business. The goal of the program is to help these investors to continuously flip properties without stopping. With astroflipping, the investor will still go through the traditional wholesaling process except with many deals at one time. The creators claim that investors will be able to do this through the unique but proven strategies they get from the course.
What Are The Details of the Course?
The course features training videos, templates, audio recordings, and checklists that provide step-by-step guidance to upscale your wholesaling business. The course will teach you how to find great deals, analyze these deals, negotiate with sellers, and quickly flip properties for profit.
The course comes in two options; Astro Accelerator and Astro Accelerator Executive. Let's delve deeper into each option.
Astro Accelerator
This beginner course is ideal for people who want to start an acquisition and disposition wholesaling business. It is also great for people who are looking to scale their business to 6 or 7 figures. This course features the following.
6 weeks training.
Access to 78 step-by-step training videos.
Access to a community of real estate investors.
Lifetime access to training materials.
Downloadable contracts.
Group coaching every two weeks for the duration of the program.
Astro Accelerator Executive
This is an advanced version of the course. It is ideal for people who have an executive mindset and are looking to scale beyond six figures. People who already have teams or are planning to build bigger teams for their wholesaling business. This option allows students to get access to AstroFlipping's team of experts who will build websites and systems to support the goal. The course features the following.
7 weeks training.
Access to 88 step-by-step videos.
Access to a community of investors.
Lifetime access to training materials.
Downloadable contracts.
Group coaching every two weeks for the duration of the program.
2 custom websites.
Access to workflow optimization tools.
Full CRM setup.
Monthly live calls with the course owners.
How Much Does AstroFlipping Cost?
The AstroFlipping Accelerator Costs $5800 while the AstroFlipping Accelerator Executive costs $7500. However, there are chances of getting discounts when you hop on a 45 minutes consultation call with them. They also offer payment plans for people who can't pay upfront.
Refund Policy
According to the terms of service on the AstroFlipping website, there is no clear refund policy. However, their response on Better Business Bureau indicates, they offer refunds based on individual situations.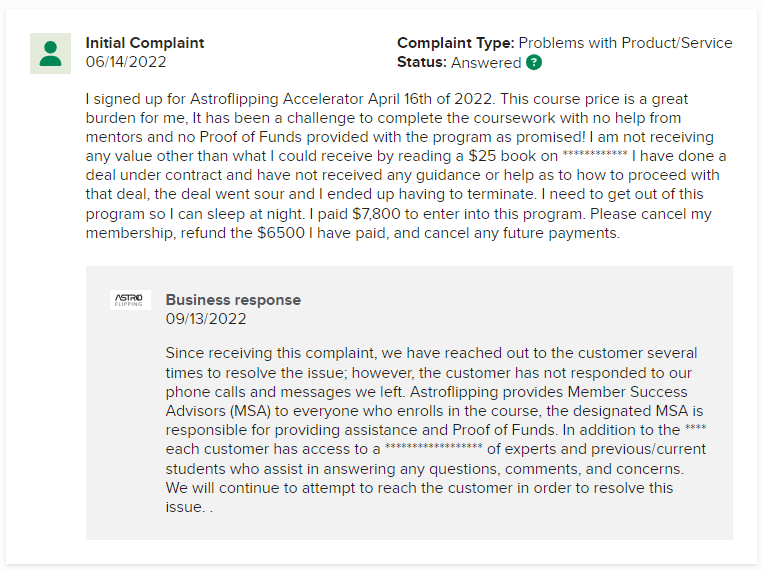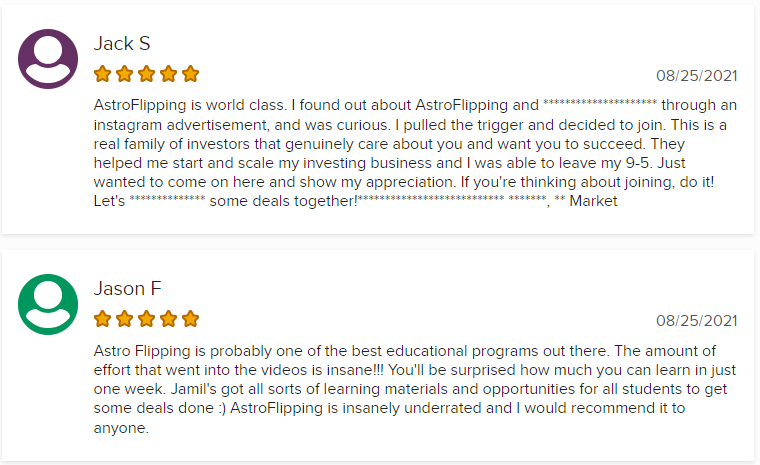 (All screenshots from Better Business Review – bbb.org)
Should You Invest In AstroFlipping? (My Verdict)
The course is comprehensive and the community will be helpful to anyone who wants to create a network of real estate investors. The creators also have a proven success record and lots of experience in the real estate industry which means you will be learning from successful and experienced investors. 
There has been lots of talk about it on reddit with some people praising it and others claiming it is a scam. In a post where a reddit user called it a joke, another person revealed that he earned an average of $5K a month through deals when he joined the program. Another person commented that he is about to $500K this year because of the course.  Most scam posts received replies from others in the comments saying they are actually making money after taking the course. 
Some people who claimed it is a scam confirmed that they never completed the course to realize its full potential. Yes, the course is expensive and can be overwhelming for beginners. Yes, you need to be sure you want to get into the real estate business before you invest. But you should also be ready to complete the course to get the best out of it! Stopping halfway will be a waste of time and money. Good luck!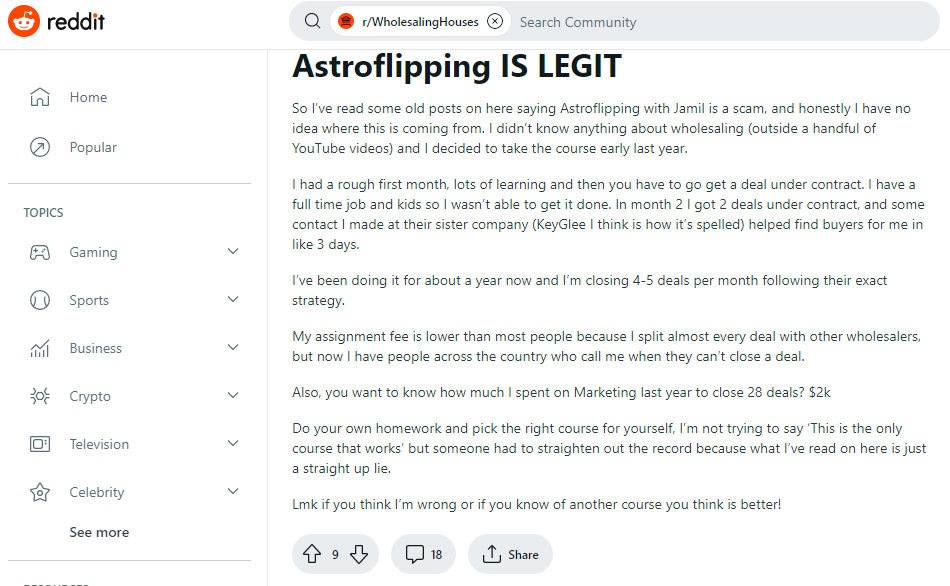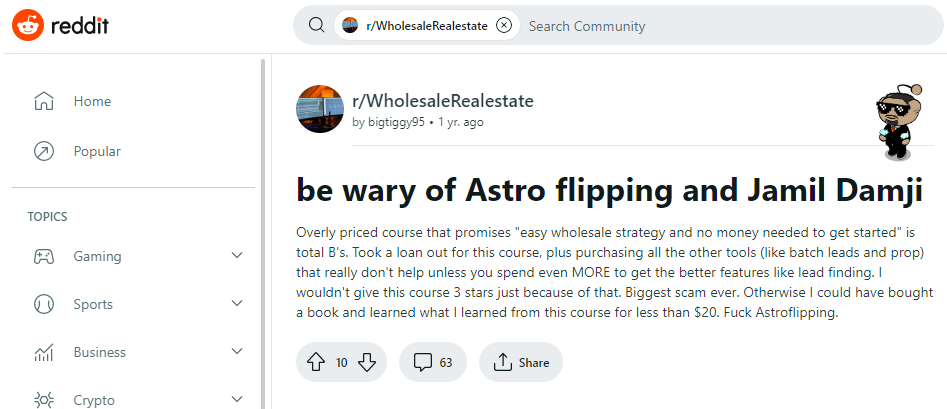 ---
Related posts: