This is an honest (NON affiliate) review of the course, Overages Blueprint (formerly Hooked on Overages) by one of my students, Rob. He is part of my local lead generation training, but also had purchased Overages blueprint in the past, so I asked for his input for this article. FYI Hooked on Overages was originally Tax Sale Overages Training, a program by Rick Dawson.
But before you read what Rob has to say, I'll tell you my main concern with Overages Blueprint: You have to constantly deal with attorneys, skiptracers, and constantly hustle to get new deals. It requires a lot of ongoing work! I've been teaching a business model for over 10 years that works on autopilot (uses google maps). You can get a full video on it at this link. Before shelling out any money for Rick's Overages course, make sure you watch this video, you'll see that this will require a lot less work, and pays you monthly once you get the system setup.
Here's a video of my daughter's business using this :
Click Here to Get The Course My Daughter Used.
The course my daughter used above is much better than Overages Blueprint. But since you are here to learn about Overages Blueprint, lets get back to our review of that:
How Much Does Overages Blueprint Cost?
It costs $1000. During that time, I wanted to get into the real estate investment business but because I didn't have the funds to be an RE investor, I looked for other ways and I saw a YouTube video about Hooked on Overages, the Found Money Business and I got curious. To make the long story short, I went ahead and invested close to $1k or a little over it.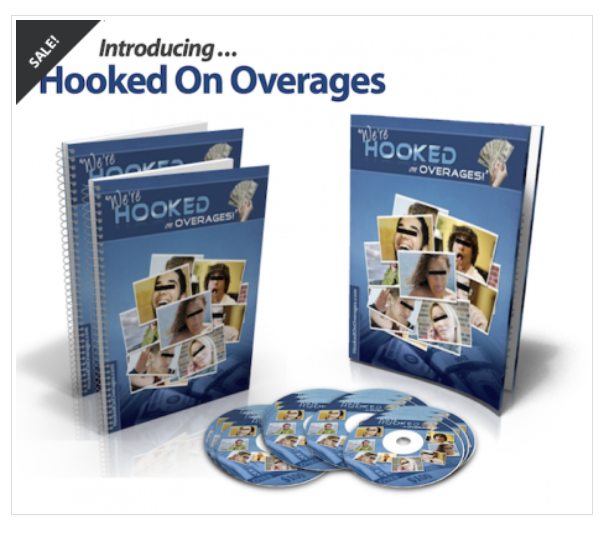 It claimed that one can make money leveraging on tax sale surplus funds. It has 24 training videos, about 20 documents, 61 PDFs, and 5 audio recordings. The course is laid out well enough that even the average learner can follow. They have one of the best email support groups I have observed with a 24-hour turnaround for tickets. The resources they have are up-to-date and complete. They have FAQs, which are answers to the very common questions one would have when trying to learn the business. Students are also given a no-cost credibility website.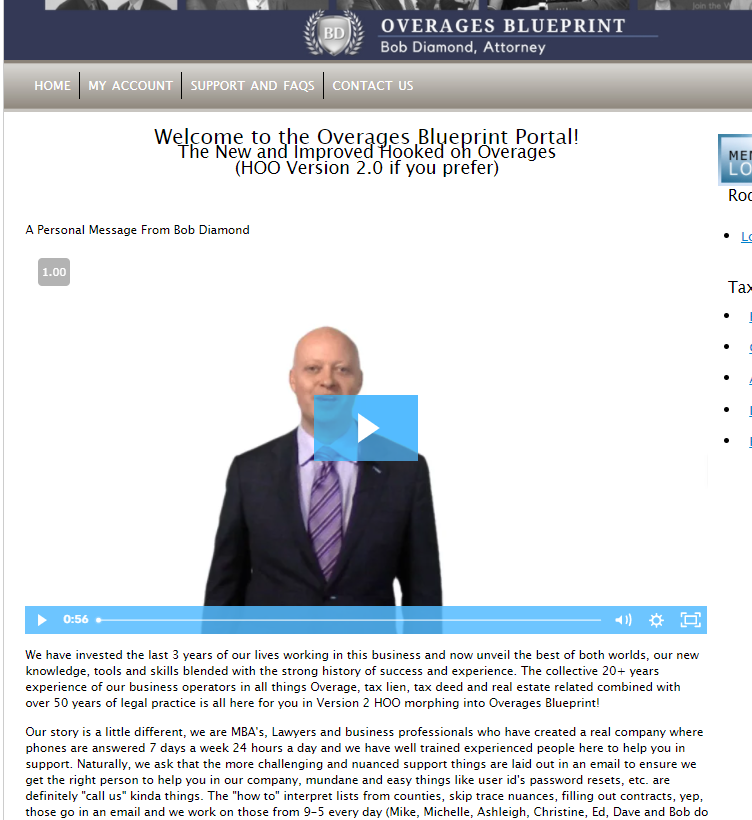 It claims that what they teach is based on their collective experience in the "found-money business". The course teaches on the different strategies & techniques to acquire the lists of surplus funds in just the "qualified" states (some states do not allow claims by third parties), how to find the rightful homeowners at the time of foreclosure, contact & sign them up.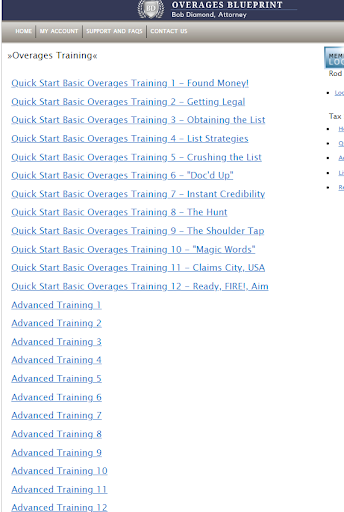 They provide a 50-state public records map that shows which office & personnel to contact to get the surplus funds listings and how to go through the procedures for a successful claim.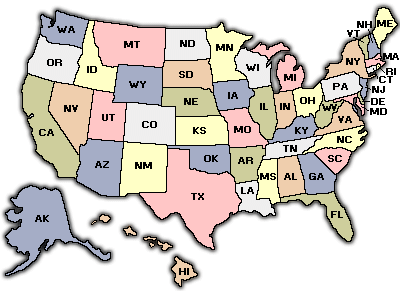 After going through the course for 2 months, I set out to make my first few calls to former homeowners, who have lost their homes for failure to pay their real estate property taxes. My first call, I spoke to a former owner of 11 properties in Coffee County, Georgia, and he was willing to go through the paperworks, signed every related document, provided me copies of his IDs after I've identified and informed him he has this $190,000 funds, laying around somewhere that I can legally claim on his behalf. But after filing them with the county treasurer's office, I was informed that he owed a lot more than the $190Gs so the claim didn't go through. That was devastating. The following day, I got my first break also in the same county but was only for roughly $8,600 in unclaimed funds. The claim went through, I was issued the check and gave the former homeowner 60% and I pocketed the remaining 40%.
The Course Summary
Here is a summary of the modules in the Overages Blueprint Training Program Course, which I think are well laid out:
Module 1: This module gives an overall bird's eye view of what the found money business is about, what the student needs to know to get up and running quickly on the right track to cash in into this loophole.
Module 2: This speaks about the rules of the land of how this overages funds are claimed legally, which local government agency has the "unclaimed funds", if the student would need a license to make the claim on behalf of the former homeowner, and how much the student can charge the claimant, whether 60-40 or 70-30, with the smaller amount going to the student.
Module 3: This is about how & where to get the unclaimed funds lists, how to go about using established laws to get the listings, and determining which claims are "hot" & legit.
Module 4: This module teaches on list strategies as the student most likely will get a ton of unclaimed funds or surplus funds lists and how to go about managing them so he is organized enough to know which ones he needs to go after first.
Module 5: This is about "crushing the lists" – going through your list from the top working your way down. This clearly shows why one claim is better to go after than another claim.
Module 6: This discusses the different forms needed for the business and how & when to use/present them.
Module 7: Walks the student through setting up the free credibility website.
Module 8: This is on locating the former homeowner and the various skiptracing sites that can be used to find them.
Module 9: This module teaches on how to contact the claimant once his contact information has been found.
Module 10: Talks about using "magic words" on what to say to the claimant like a pro to get him connected with the student and sign up to get the claim process started.
Module 11: Discusses the secret to successful claim processing and the student has to make sure he has all the right documents for himself, the claimant, and the government agency.
Module 12: This encourages the student to jump into the game and take action!
What I like about this course
There's no question in my mind that it is a legitimate course for people who want to get into the real estate business and make good money without the 3 T's tenants, toilets, and termites and without the need for big capital investments. The course is laid out really well and most needed information is included. I like the fact one can start quickly within a week or 2 and while learning the ropes the student can already request for surplus funds listings from the government agencies.
Overages Blueprint Refund Policy
To get a refund, send an email to support@overagesblueprint.com within 3 days buying the product. If you received a physical version in the mail, within 3 days of receiving Overages Blueprint in your hands. Let them know you want a refund. I did not ask for a refund on this, but their official overages blueprint refund policy says if you ask later than 3 days they won't refund you.
Is Overages Blueprint Legit?
I would recommend it if one has the funds (for reliable skip-tracing service or software and to pay attorney's fees). I mean if I had the funds back then, I would have pursued the business because the way I see it is it is a legitimate endeavor.
What I don't like about the course:
They make it sound that it's so easy to locate the former homeowner (claimant) but one would have to pick a very reliable skip tracing software / service to find the claimant. Also, the good skip tracing service companies are I think very pricey.
Another thing I don't like is when it would require me to hire an attorney because you know how much that cost.
My Recommended Business Model (Instead of Overages Blueprint/Hooked on Overages)
Obviously, the main objection to hooked on overages is the cost of attorneys and skip tracing. But there is another problem. In order to make money the Overages Blueprint model, you have to continually hustle for new deals. Now, theoretically you could hire a team to do the hustling for you, and train them so the whole thing is on autopilot, but it still requires continual searching for deals.
The business model I recommend instead requires VERY LITTLE ongoing work to keep the money coming in. It is called "Google Maps Lead Generation." In this model that I recommend, there is work involved in setting up the business, but once it is set up there is hardly anything to do except collect checks, because the technology does the work for you.
Sound too good to be true? Check out this page that has a full video on the entire process. You'll see the brilliance of this model once you watch the video: