One of the students of my local lead generation coaching program, Paul, mentioned that he had also purchased purchased the Tai Lopez Social Media Marketing Agency (SMMA) 2.0 program after seeing a Tai Lopez advert for the program on YouTube. I asked him to do a review for my readers after he had been through the course.
But before reading what Paul has to say about the Tai Lopez SMMA course, I need to say that I don't recommend starting an agency like this. Why? Because clients come and go, and you will have to be on a continual hustle to find more clients. This video teaches a business model using google maps where you setup your OWN websites and rent them out to clients instead. If a client decides to leave, you can simply find another client and point the leads to them instead. I highly recommend this business model instead of SMMA.
Here's a video of my daughter's business using this :
Click Here to Get The Course My Daughter Used.
The course my daughter used above is much better than Tai Lopez's program. But since you are here to learn about the Tai Lopez Social Media Marketing Agency, lets get back to our review of that:
I bought the program online to take advantage of a special 60% off Spring discount offer, and opted for the payment plan option for $197 x 2 payments with the second payment due 30 days after the first.
A few minutes After making the purchase, I got an email from tailopez.com with my receipt and a thank you from Tai. This was followed a minute later by another email with my login details including my username and password details, and a link giving me immediate access to the program.
How Much is Tai Lopez SMMA course?
I costs two payments of $197. Screenshot of my email receipt and thank you below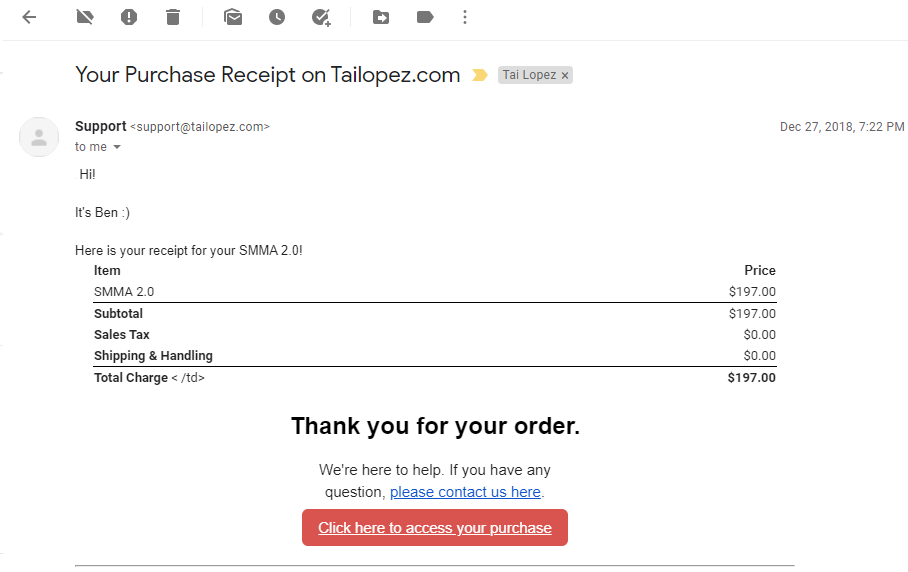 What was the SMMA 2.0 Course about?
According to the Tai Lopez ad I saw, the Social Media Marketing Agency 2.0 course was about how to build a Social Media Marketing Agency that could get small businesses to pay me $1,000-$10,000 (or more) every month to help them with their social media marketing. That caught my attention however before the cash, the SMMA program was about how to set up my own independent Social Media Marketing Agency to be able to offer my services to businesses that were struggling with their social media marketing and earn extra income that would eventually replace my full time job.
The program content included how to set up an SMMA from scratch; how to develop different social media customer packages; how to price and market different social media packages; how to conduct social media audits that attract attention of business owners; how to approach and make presentations to business owners to get and close clients; understanding the importance of brand story and how to create it; how to create content that people want to share on social media, how to pick the best niches to offer SMMA services; and much more.
What is the best SMMA course?
The Social Media Marketing Agency course by Tai Lopez starts with a Welcome module video that gave a good summary of what the course offered and what to expect through the modules and was followed by 4 separate content heavy program Phases including:
Phase 1: Business Set-up – with 23 (video classes) steps
Phase 2: Mastering Social Media Marketing – with 56 (video classes) steps
Phase 3: Acquiring Clients – with 31 (video classes) steps; and 
Phase 4: Automation, Servicing & Building Your Team – with 14 (video classes) steps
Also included in the program was an SMMA Facebook group membership; a bonus module on Facebook Advertising; bonus materials and videos on SMMA Live Calls & Past SMMA Live Calls; a bonus section on SMMA Lifestyles; and last but not least, an opportunity to become SMMA Certified once all the course materials were satisfactorily completed, by taking and passing an examination.

Screenshot showing Members Course Content Page for the SMMA 2.0 program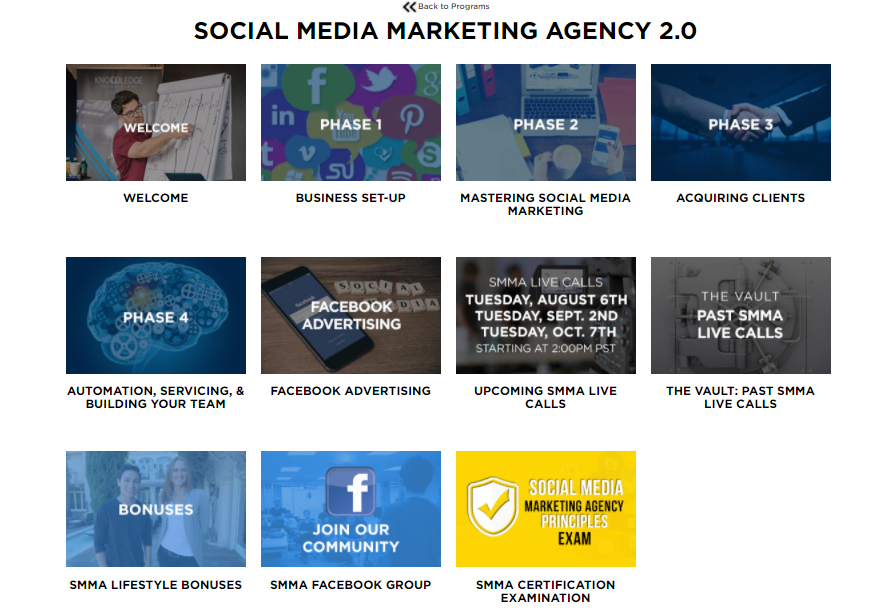 The program delivered a ton of value through all the information and knowledge conveyed through the video format. The video content was presented by Tai Lopez and by a host of special guest teachers who were themselves digital marketing authorities and social media celebrities, many of whom owned and operated their own social media agencies. As a newbie I felt that the program was a great first step or introduction to social media marketing.
Screenshot of just some of Phase 1 program content and slider showing course progression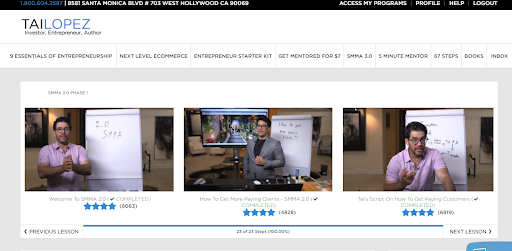 Why did I enroll in the Social Media Marketing Agency Program?
I enrolled in the program because I had witnessed the birth, growth and influence of social media over literally take off exponentially in the last 15 years and I also saw the income opportunity. To be honest what was especially attractive and what pushed the right buttons for me was the opportunity to replace my full-time job income earning $10,000 a month managing social media accounts for businesses. 
I saw the SMMA 2.0 program as a way to transition out of being an employee into owning my own business.
What did I enjoy most about the course?
I liked the relaxed, laid back feel of the program videos because it never felt like I was in class but instead felt like I was at the kitchen table having a chat over a cup of coffee. I especially liked the fact that I could download the MP3 videos and cheat sheets from each video class to review later. I liked this because I did not feel under pressure to complete the phases, modules or bonuses.
Screenshot of Video Summary, Downloadable MP3, Templates and Cheat Sheets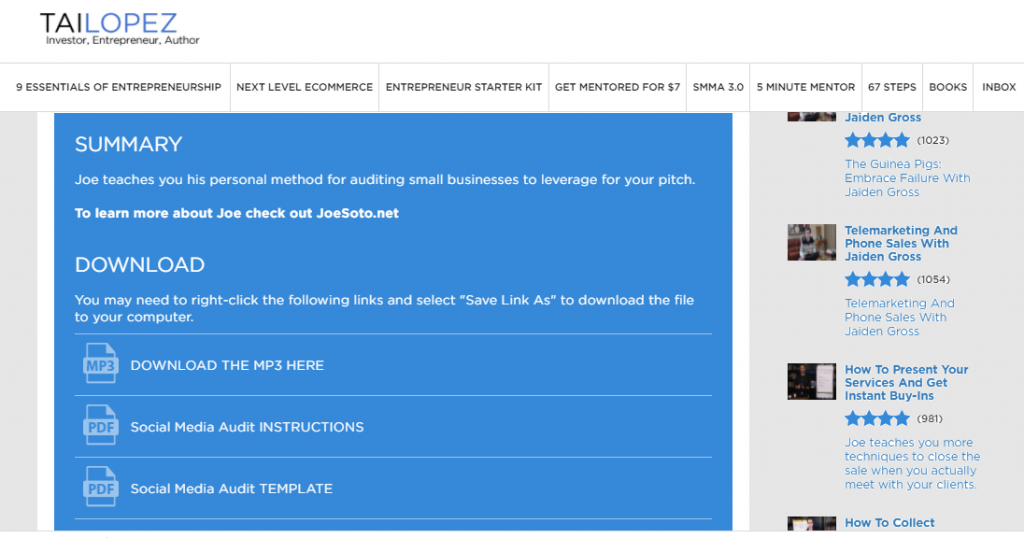 One thing that surprised me was just how effective gamification was in keeping me motivated and focused because after every video lesson, students were encouraged to answer one, two or maybe three short questions related to the video lesson just watched. Then students were asked to rate the video lesson out of 4 stars; and finally, students were asked to suggest ways in which the video content could be improved.
This gave me a sense that I was part of the course creation process, because I felt like in some way the course creators were interested in my input and contribution. Tai definitely had my buy-in to the process here. Now, if you choose not to answer the questions at the end of the video, you were not rewarded by seeing the progress slider move from 0-100% as you progressed through the videos.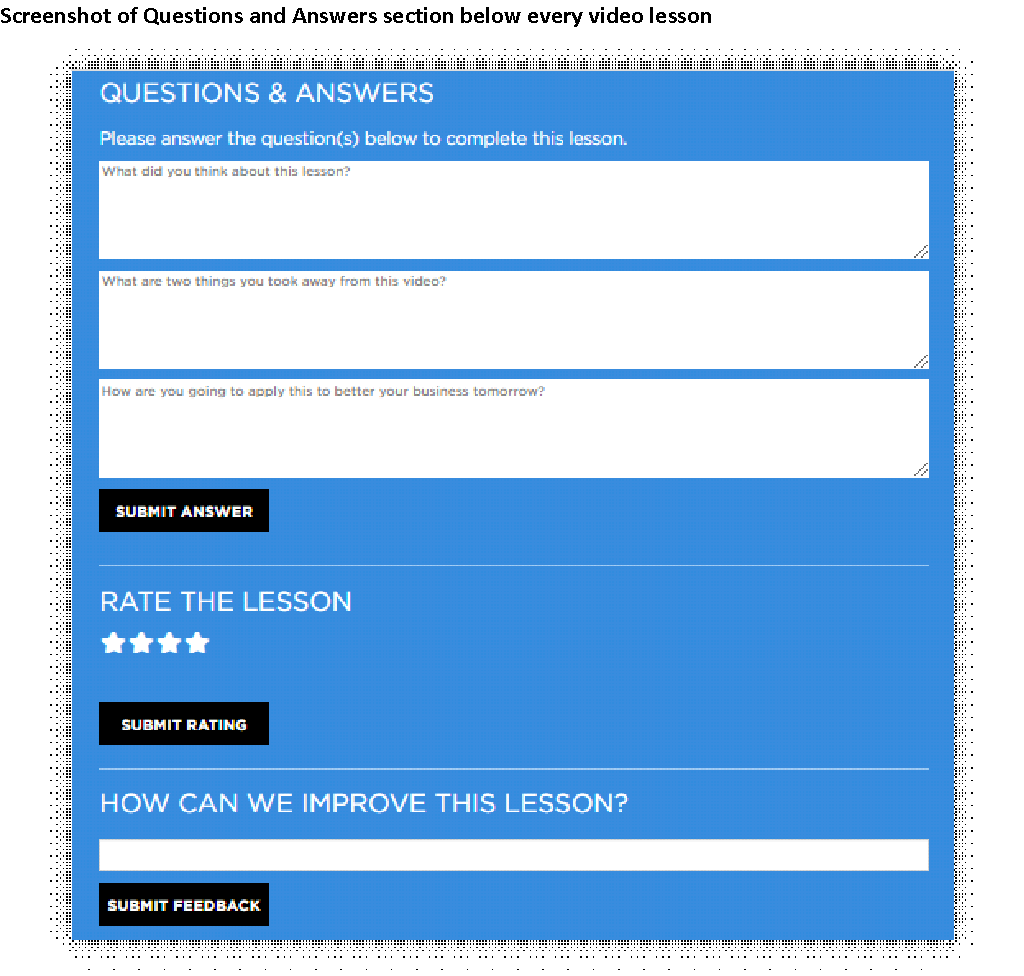 Is the Tai Lopez SMMA course legit?
The Good was that Tai overdelivered on content with well over 200 video lessons included as part of the program. However, the fact that there was so much great content, also worked against the program in my opinion. I say this because I simply felt overwhelmed progressing through the video lessons due to the sheer amount of content and information I had to absorb as a newbie.
I also never got the sense that I had acquired enough knowledge or felt confident enough to go out despite the large volume of information and content in the program. Granted this may certainly have been more my own shortcoming than anything to do with the program however I still felt like I had to delve deeper and learn more specifics about SMMA from one or other of the guest, authority or celebrity teachers who presented the video lessons.
Instead of the Tai Lopez course, I recommend this course instead. It will teach you how to setup a business that doesn't make you a SLAVE to clients.
Now, don't get me wrong the video lessons content was excellent, I just never felt like the knowledge I acquired in the video lessons got me beyond my conscious incompetence to being consciously competent. This may have been because my learning style is one that does better with a Quickstart, Faststart or Starter Module in which all the fundamentals and basics are broken down into easily digestible bite sized chunks.
Did the course improve your knowledge of the subject?
The SMMA program definitely greatly improved my knowledge and understanding of social media and helped narrow the huge gap for me. I would recommend the program as a great resource for anyone looking to start or scale their social media marketing skills and knowledge and especially to launch and scale a social media marketing agency.