What was the course about?
The Commission League (TCL) program promoted by Mike Balmaceda and created and taught by John Saega, Justin Francisco, and Steven James to be a step by a step training program that teaches how to earn money through affiliate marketing in a "3-step, 20-minute workday system" that taught students all the tools and techniques software, landing pages, offers and required to be successful in affiliate marketing.
Now, I need to be frank with you. I have been making money online for over 20 years, and I have major concerns with the Commission League business model.
My main concern is this: Since you only make money by selling someone else's product, the product owners may not pay you. They may change their commission structure. They may remove their products from the market. I have PERSONALLY had all these things happen. Instead, learn a business model that puts you in total control. You keep all the profits and you own all the products. And it takes less time to setup than a Commission League business. It uses a loophole in the google maps system to get you autopilot monthly payments. Video Here.
My own teenage kids even make money with this business model!
Here's a video of my daughter's business using this :
Click Here to Get The Course My Daughter Used.
OK but enough about me and my daughter, lets talk about Commission League.
I asked one of my students to review Commission League for me, because I haven't been inside their training. This is one of my students of my Google Maps program I talked about above.
This is what one of my students said about Commission League:
I purchased the program on August 3rd, 2019 on a payment plan of two (2) payments for $547 each, with the second payment due 30 days later on September 3rd, 2019. I received my Clickbank receipt email and literally the same minute, a welcome email with my login details.
Screenshot of My TCL program Purchase Receipt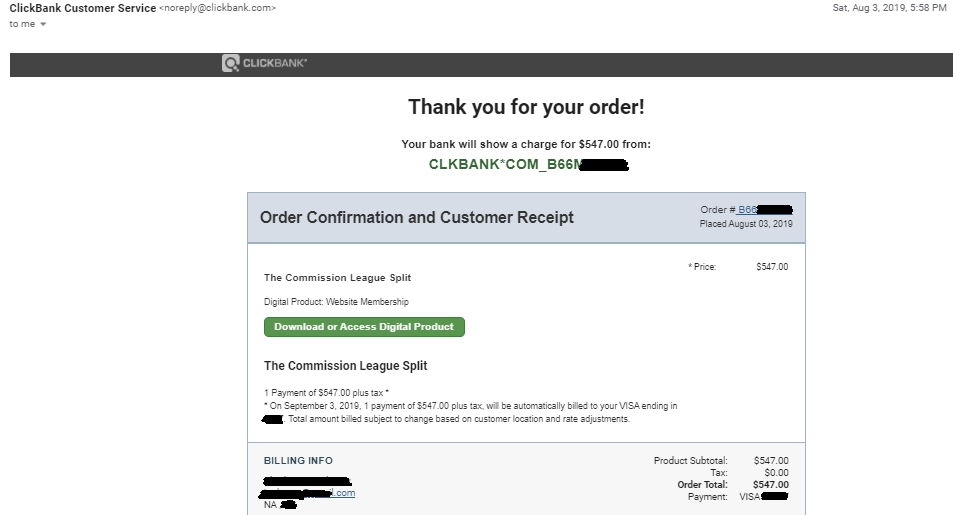 The program presentation and layout on the TCL website was professional and after I logged in and watched the "Start Here" video by Mike Balmaceda, I was encouraged to immediately book my strategy session which I did and booked a slot scheduled 3 days later on August 6th, 2019. This was a brilliant strategy on the part of the course creators to get buy-in to the course and have me locked, loaded and motivated for success by dialing into the system early and establishing momentum.
Apart from the Strategy session with an upsell to two (2) higher levels of the program: The Inner Circle and Platinum levels (with a 14 Day Free Trial with added bonuses); The TCL course offered a great amount of value especially for the first time (newbie) affiliate marketer. The course included: The Affiliate Marketing Blueprint; 7 Bonuses; A Facebook Community Group; A Partnership Opportunity with Influencers; and Program Support.
Screenshot of My Strategy Session Confirmation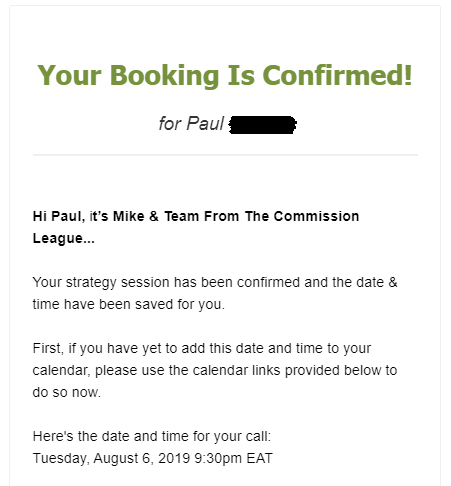 Screenshot of The Commission League Dashboard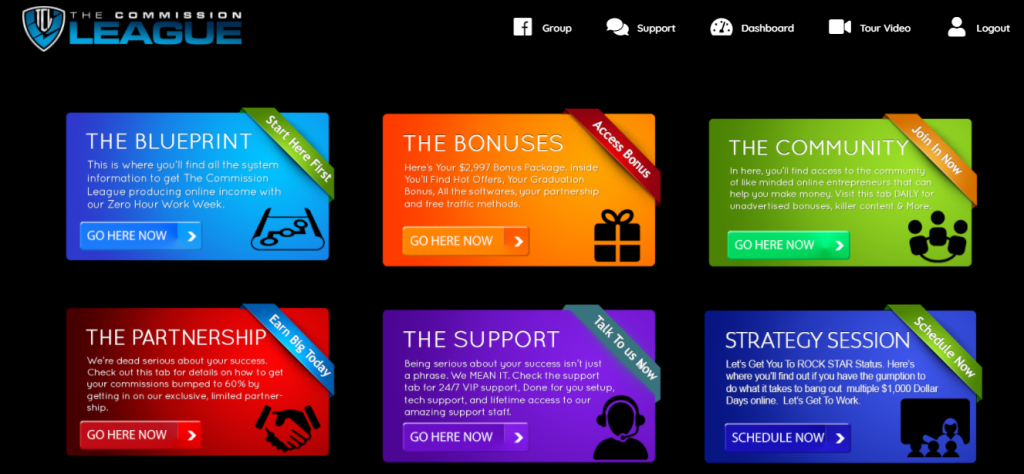 The Blueprint
The Blueprint was the meat and potatoes of the TCL program which was made up of 5 Pillars (modules) that contained PDF documents and video lessons including:
Pillar 1: The Commission League Blueprint:
Pillar 2: How to Find $1k Opportunities
Pillar 3: How to Find Profitable Products:
Pillar 4: Push-button Influencer Solutions
Pillar 5: Support from Us
Pillar 1: The Commission League Blueprint:
This module introduced students to the fundamentals of the TCL system in 4 short and easy to digest video lessons taught by John including:
Video lesson #1: The Seven Figure system behind TCL;
Video Lesson #2: No Experience Required;
Video Lesson #3: The Pushbutton Software
Video Lesson #4: The 20 minutes a Day System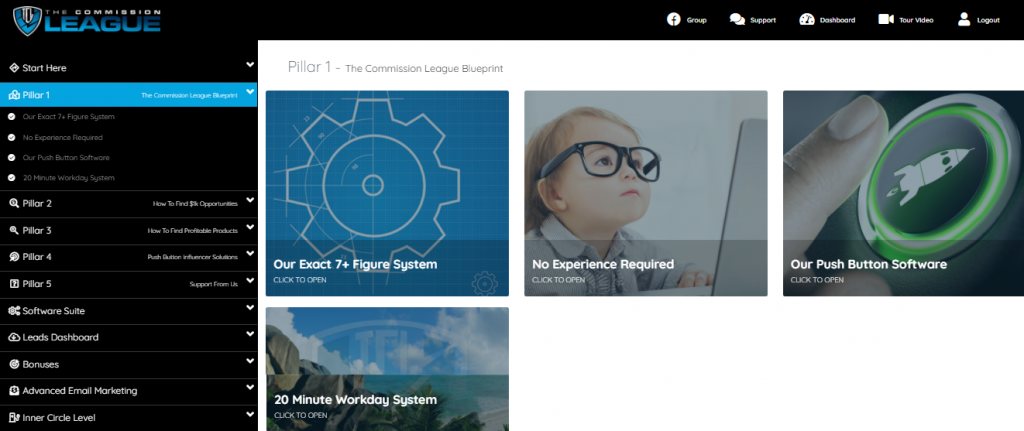 Pillar 2: How to find $1000 opportunities:
This pillar introduced students to affiliate marketing basics in 4 modules that explained everything from What a landing Page Is, What Digital Products are; What Clickbank and Autoresponders are; What Solo Ads are; How to Make Money with a List; and video lessons that gave a deeper insight into affiliate marketing including the 5 best niches (topics) to make money in affiliate marketing.
The lessons in Pillar 2 consisted of:
Lesson 1: Affiliate Marketing basics; a welcome video and 7 PDF's explaining Affiliate marketing basics.
Lesson 2: How to identify $1,000 a Day Topics;
Lesson 3: the 5 Most Profitable Topics (niches); and 
Lesson 4: How to Virtually Guarantee Sales.
TCL PDF Document that Explains Affiliate Marketing Basics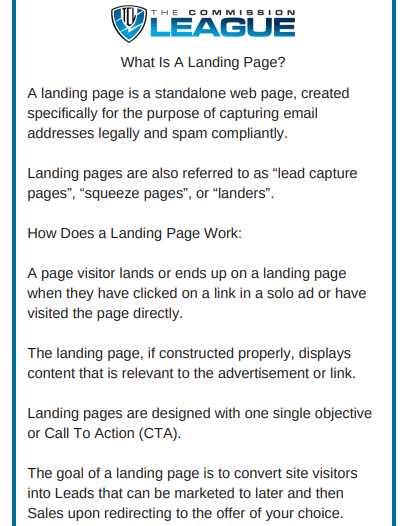 Screenshot of Pillar 2 Lessons

In video lesson 4 of Pillar 2, 'Virtually Guarantee Sales,' the 6-part secret steps of the TCL system was revealed and it included: the TCL Done for You Sandwich Pages; Influencer Traffic; Captured Leads; Conversion from Captured Leads; Sales from Autoresponders; and Sales form Broadcasts.
Pillar 3: How to Find Profitable Products:
This Pillar contained 3 modules that taught how to find the right affiliate products to sell to get the best commissions and where to find them. The video lessons included:
Lesson 1: The Exact Profit earning Websites
Lesson 2: The B.U.R.N Protocol
Lesson 3: Step by Step Setup
Screenshot of Pillar 3 Video Lessons: How to Find Profitable Products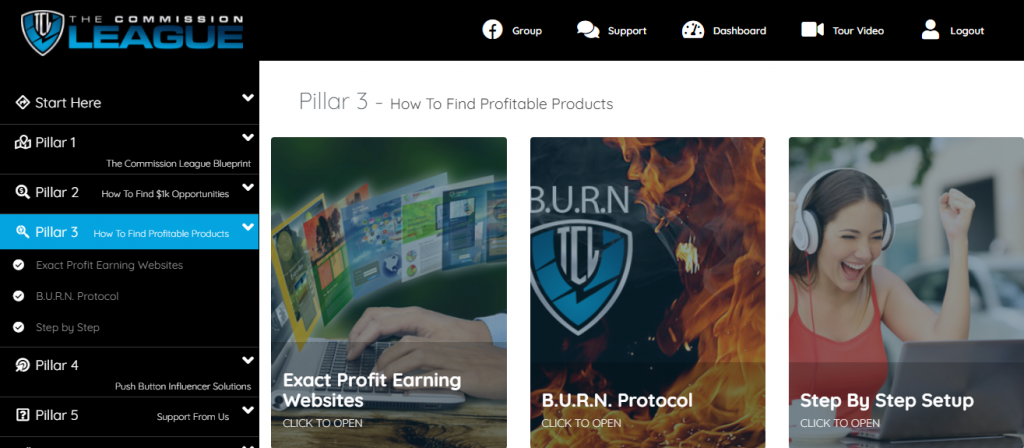 Pillar 3 dove deeper into the what, how, when and where of profitable affiliate marketing products which was particularly helpful for a newbie to affiliate marketing like myself. In this video lesson, students were introduced to the best platforms and websites to find affiliate offers including the biggest site Clickbank, Nexus Offers (established and owned by a couple of the course creators); and Clickbetter.
In video lesson 2 of Pillar 3, the B.U.R.N Protocol (a unique acronym for the 4 Step Method) for finding the best selling affiliate products; and how to identify the best products to make money with JV partners such as influencers. The B.U.R.N protocol stands for:
Step 1: Best Selling — Don't reinvent the wheel simply go with Proven products for success
Step 2: Updated Frequently – Make sure the product you choose is one that is frequently updated to reflect industry, market changes or changing trends.
Step 3: Recurring Revenue – Select products that have rebills so that you get paid out passively on a recurring basis for your efforts and not just a onetime commission payment.
Step 4: New and Hot – Make sure your chosen product is 'brand New', trending and talked about, i.e., has momentum behind it.
Pillar 4: Push-button / Done-for-you Influencer solutions:
In this module, the course creators turned up the heat and dished out expert tips, tricks and tactics on how to multiply traffic and generate sales fast by leveraging the power of technology including an email and copy spinner; social media tips for getting free traffic; Solo Ads; Influencers and add-ons to the course a YouTube course and a Link Posting course valued at $297 each; to make up for some of the original Zero traffic solutions that were rendered obsolete by YouTube and FB rules changes.
Screenshot of Pillar 4 Lessons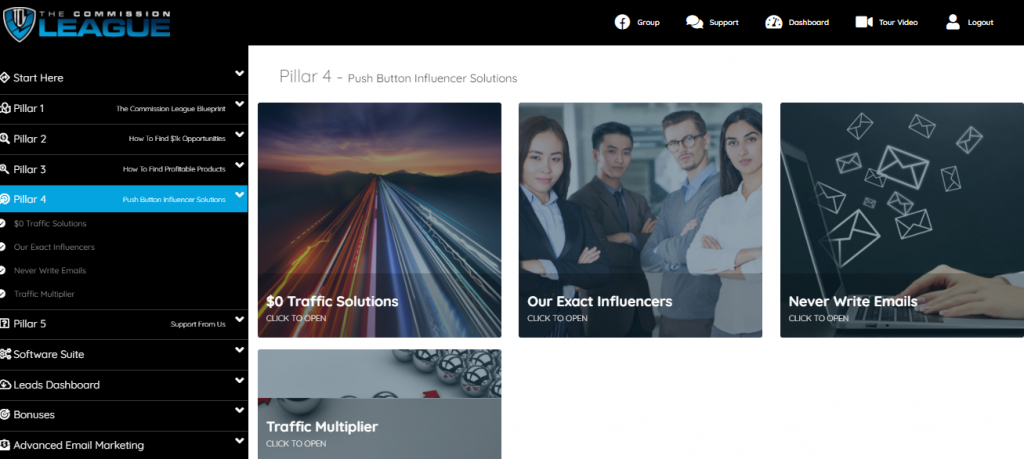 Pillar 5: Support:
In Pillar 5 students are able to communicate directly with TCL Support by sending questions or queries via email directly. My experience was that support responded very quickly to any queries sent.
Why did you enroll in the course?
In the marketing materials, the TCL course was sold as a simple uncomplicated system to earn $1,000 a day that did not require any experience coding, building landing pages or webpages; no experience with hosting services or email autoresponders; no experience or knowledge with online marketing, affiliate marketing or with tech skills.
The fact that the TCL system promised to simplify and automate most of the technical and complicated backend issues got my attention because I had little to no experience in any of these areas. As a complete newbie looking to upscale fast, the TCL course was for me a perfect opportunity to advance my skills and knowledge with a program that provided all the tools and software required to master the affiliate marketing game.
Screenshot of TCL Done For You Landing Pages/Sandwich Pages Builder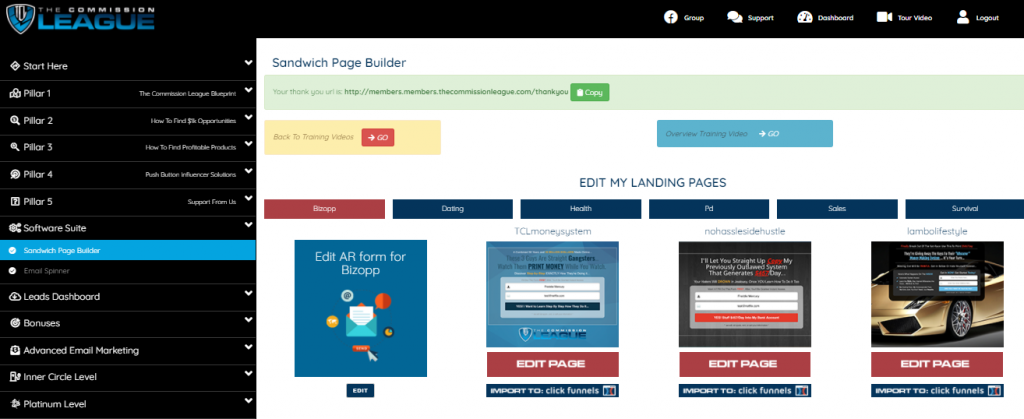 Did you enjoy the course?
I definitely enjoyed the new knowledge acquired and the no BS manner in which the content was presented. The Facebook group was even more real as the course creators interacted regularly with course participants answering questions.
What was good and/or bad about it?
Because of the rapid changes to technology, trends and tastes, some of the lessons taught were literally made obsolete in real time. I did however appreciate the fact that the course creators produced and updated content to reflect the changes just as quickly.
I liked the step-by-step manner in which the course presented content that would otherwise have overwhelmed a newbie like myself in simple and straightforward terms. I also liked the fact that the course came with all the necessary software, systems and structures for success in affiliate marketing including hosting, coding free landing page builds, autoresponders, email lists, solo ads and so much more.
Perhaps because I was a newbie, I was under the wrong impression that I would not require anywhere near as much extra investment in upgrades, solo ads, list building and other extras to be successful after I bought the TCL course. Also, even though the system touted "20 mins a day" the reality was in order to be successful, I had to put in substantially more time and the level of success was directly related to how much time one was willing to put in.
Lastly, the joy of success which I was able to taste after just two weeks with two sales totaling $1,000 in commissions was short-lived because I received charge backs on both sales and the commissions were subsequently reversed. I was definitely not ready for that.
Did the course improve your knowledge of the subject?
The course definitely improved my overall knowledge of affiliate marketing and enabled and empowered me to even contribute to the conversation which I was not able to do prior to the course.
My biggest take away from the course was however, the importance of building an Asset that would allow one to continue to generate income into the future. This Asset in terms of affiliate marketing was the List of subscribers. Learning how to build, nurture and engage a list is one of the master skills for success in online marketing that I was able to learn and be thankful for.