Paul, who has reviewed other programs for us, purchased Tai Lopez's Ecommerce Agency course as an add-on or upsell to another program. I asked him to review this one as well:
I purchased the Ecommerce Agency Course for $29.00 using a credit card and received an email notification a few minutes later with my receipt and thank you email in my inbox and was able to access the course material immediately upon receiving a separate welcome email with my program login instructions.
VERY IMPORTANT: Tai Lopez will teach you how to setup a consulting business, but FIRST you have to have Ecommerce skills to offer businesses!
If you don't have experience in Ecommerce, don't get the Tai Lopez Agency course. You need to know how to take a ecommerce business from zero dollars to success. If you don't know how to do this, you won't be able to start an Ecomm Agency.
My other issue with the entire agency business model is you have to CONTINUALLY be on the search for new clients. I prefer a much more autopilot business model. A business I can setup that runs without me needing to keep hustling for new clients.
Here's the course I recommend instead. My own teenagers are using this course to setup autopilot businesses online that require very little ongoing work. There's a Free Video On This Business Model Here.
Here's a video of my daughter's business using this :
Click Here to Get The Course My Daughter Used.
The course my daughter used above is much better than Tai Lopez's Ecommerce Agency. But since you are here to learn about Tai Lopez's Ecommerce Agency, lets get back to our review of that:
If you want to keep reading my review, here we go:
Here is a screenshot of my email receipt and thank you below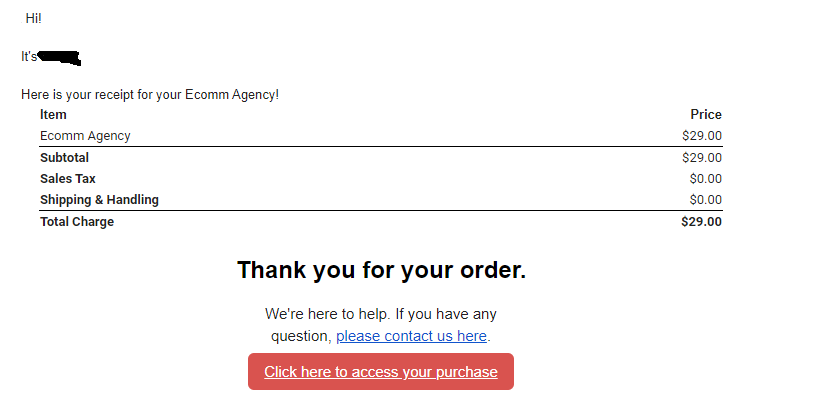 What was the Ecommerce Agency Course about?
The "Ecommerce Agency" program was promoted as a course that would teach 'How to start a service-based business helping companies use ecommerce' by learning "the 4 steps to getting paid to help online businesses."
Learning how to start an online business was something I was very interested in because I felt strongly that there was a growing need among business owners and individuals (including myself) to learn these skills and then leverage them to help businesses.
The Ecommerce Agency program came in 3 Main Phases or Sections including:
Phase 1: Ecommerce Agency
Phase 2: Ecomm Agency for Amazon FBA; and
Phase 3: Ecomm Agency Advanced Techniques
See screenshot below showing Ecomm Agency program phases: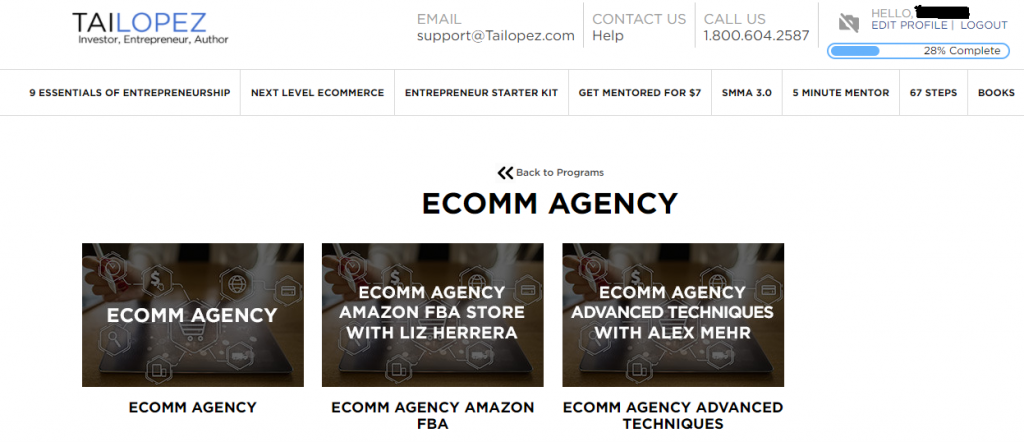 For the $29 price, the program gave a ton of value that was overwhelming quite frankly and not what I expected for the cost, with 27 individual video classes in the Ecomm Agency phase alone. There were 30 classes in the Ecomm Agency FBA Store section; and 5 classes in the Advanced Techniques section.
The program structure was designed with a casual laid-back approach with the layout and backdrop for all the video classes reflecting this. Tai Lopez himself introduced the program in the first video with a nice background and context to the course and the wider opportunity; and what kind of attitude and approach was needed in order to be successful in ecommerce. This which was really helpful for a newbie like me because due to my lack of experience, knowledge and skills; I did not have the confidence and this was particularly timely to set the stage going forward.
Tai also taught the second class on how to get more paying customers. Much of the rest of the program was taught by expert digital marketers in the field of Ecommerce, and digital marketing who ran their own Agencies, including Adrian Morrison, Joe Soto, Anthony Morrison, Liz Herrera and Alex Mehr. As a newbie to ecommerce, I was introduced to these experts for the first time in this course and it was reassuring to know that the content was being taught by expert marketers with successful Ecommerce and Digital marketing agencies and businesses.
The full list of 27 Ecomm Agency video lessons included the following:
Welcome to Ecomm Agency by Tai Lopez himself
How to get more paying clients also taught by Tai Lopez
7 Figure Product Funnel
What its all about
Ecomm Agency Strategies
The Sky is the Limit
Ecommerce Niches
Business Outreach
Removing Excuses
Reaching Out (to businesses)
Calling your Prospects
The Offer by
Presenting Solutions
Three Questions Close
Split Testing FB Ads
Grow your Email Marketing List
Facebook Fan Page Profit
Ecommerce Success Academy (special offer for Adrian Morrisons full ecomm course)
Creating a Digital Product Ecommerce Course
Webinars to Get Clients and for your Clients
The Profit Cycle
The Back End Profits
Digital Marketing Academy (special offer for Anthony Morrison's academy course)
Ecommerce Email Secrets
Ecomm Email Events by
Ecomm Email: What you need to Start
Ecomm Email: Examples and Case Studies.
Screenshot of the Ecommerce Program Home and slider showing real time video class progress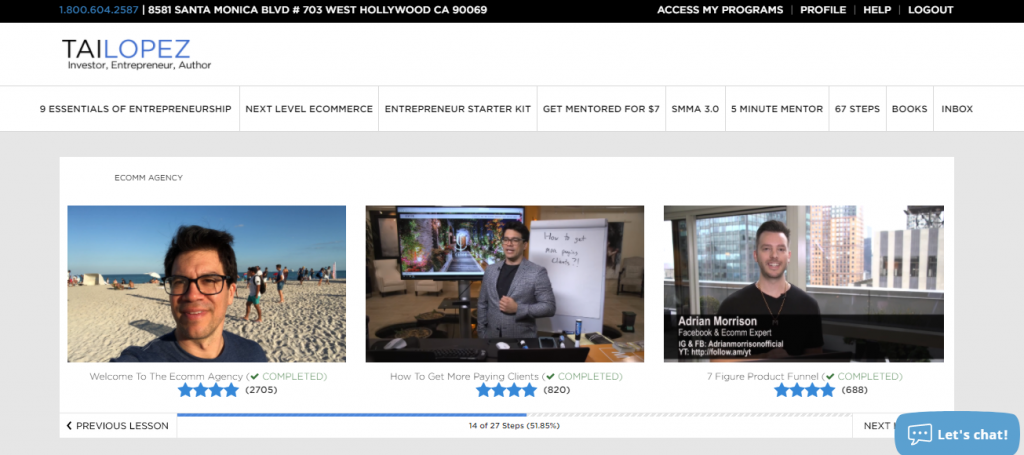 Why did I enroll in the course?
I enrolled in the program because I had been looking for a way to transition out of being an employee to owning my own business and had tried a number of different opportunities including a couple of MLM opportunities, an affiliate marketing course, and a couple of failed crypto currency opportunities and had just signed up for the Tai Lopez Social Media Marketing Agency course a month earlier. The Ecomm Agency course to me made a lot of sense because I had seen the online market space with ecommerce explode over the last ten years since the 2008 crash.
What did I enjoy most about the course?
The relaxed, laid back and direct style of Tai Lopez which you either love or hate. I especially enjoyed the gamification of all the videos with a short quiz after each class and slider showing your progress in real time so you get direct feedback and the dopamine reward from seeing your progress through the course on the slider.
What was good and bad about it?
There was a huge amount of video course content which was both good and bad. Good because I always feel like I never have enough information in order to master a particular topic. At the same time, the large amount of video content meant that it did not particularly feel like I had solid base of fundamentals from which to build on and because there was so much content, I found myself struggling to stay focused and locked in with so much content and not feeling like I had a steady grasp of the ecommerce basics.
My own sense was that the course should have delved deeper into the basic fundamentals or the A,B,C's and 1,2,3's and How to's of Ecommerce content; and instead got quite technical and lost me half way through as my lack of technical ecommerce knowhow found me wanting. I just felt that the course could have done a better job explaining the basics of ecomm to a beginner like me.
While there was a support team available to answer any questions, the sheer weight of course content was intimidating and I rarely if ever contacted support for help.
Lastly, I felt somewhat cheated after I was locked out of full access to the course content unless I upgraded my membership. If this was highlighted or explained, I missed it and it would have been helpful to have this clearly stated so I could manage my expectations. This certainly left a bad taste.

Did the course improve your knowledge of the subject?
A great immersion for anyone looking to dive into the rabbit hole of ecommerce. I learned a tremendous amount as a first course on the topic however, I would definitely recommend a more in-depth comprehensive course from one of the experts to fill in the knowledge gaps.
Click Here to View My RECOMMENDED Training, it is a full fledged training that gives you START to Finish COMPLETE instruction on getting an online business started.